COVID-19 UPDATE!  Enjoy the outdoors on a clean, sanitized custom-airboat for an Everglades tour unlike any other. Our captains and employees receive daily wellness checks to ensure they are healthy and symptom free. All traffic areas, including seats, railings and headsets are sanitized before and after every ride. Hand sanitizer will be available. Captains wear buff-face mask protection. MASKS ARE NOT REQUIRED. A 100% Full Refund Policy if tour is canceled due to Covid-19. How you see the Everglades matters to our Team at River of Grass!  Ask about our specials and discounts ~
Everglades Airboat Tours and Airboat Adventure
1 Hour River of Grass Everglades Airboat Ride
This airboat tour covers about 10 miles outside the Everglades National Park ~ one hour of great, safe fun!
$250 2 guests
*$50 for each additional guest
1.5-Hour Everglades Airboat River of Grass Ride
Rated BEST Everglades airboat tour – this tour covers about 15 miles ~ most popular to see a wild alligator and seasonal baby alligator in the National Park Wildlife Management area!
$350 2 guests
*$50 for each additional guest
2 Hour Airboat Ride with The River of Grass
This Everglades Airboat tour covers about 20 miles  ~ not only a ride, but a special experience and adventure in the Everglades wilderness!
$425 2 guests
*$75 for each additional guest
2.5-Hour Airboat Ride
This Miami sightseeing tour and attraction in the Everglades covers about 20 miles ~ an in-depth, eco-, and enthusiast nature tour!
$550 2 guests
*75 for each additional guest
*Kids 5 to 12 years old 1/2 price – kid under 5 years old RIDE FREE!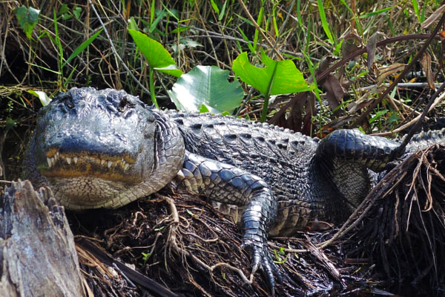 SEMI-PRIVATE RIVER OF GRASS AIRBOAT TOURS EVERGLADES
(no more than 6 to 8 guests per boat)
1.5 Hour – Best Everglades Airboat tour for a small group in Miami and Fort Lauderdale ~  Alligators, reptiles, and other wildlife, such as Egrets, Blue Herons and the famous Anhinga, can be seen on this tour!
$85 per guest
*Children 5 – 12 years old half price
1 Hour- Semi-Private Airboat Tours in the Everglades
This ride covers approximately 10 miles of Animal Sanctuary ~
$65 Per guest
*Children 5 – 12 years old $30 each
No Children under 5 on Semi-Private tours (private tours only)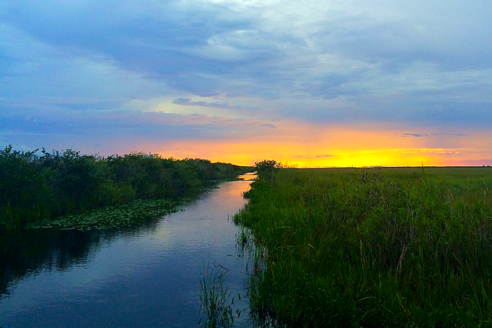 SUNSET AIRBOAT TOURS IN THE RIVER OF GRASS EVERGLADES
Sunset River of Grass Everglades Airboat Tours return approximately 20 minutes after sundown (just as it begins to get dark)
airboat tour departure times vary daily – Summer time tours extra!

1.5-Hour Sunset Everglades Adventure
$500.00 2 guests
*$75 each additional adult / 12 – 6 years old $50
2-Hour Sunset Everglades Adventure
$600 2 guests
*75 each additional adult / 12 – 6 years old $50
Children under 5 ride FREE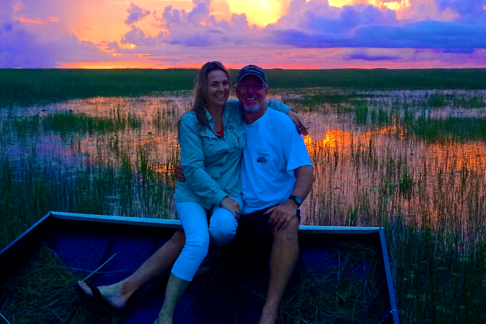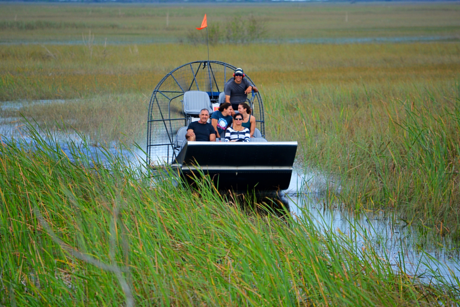 River of Grass ​​
Airboat Tours in Everglades
Taking an airboat ride through the Everglades is a must-do for all  South Florida, USA vacationers! Riding first class is what you can expect when you book your Miami airboat tour with the Everglades River of Grass Adventures. Rated Miami's #1 reviewed Airboat tour with over 1,800 5 star reviews! Explore North America's last remaining subtropical wetlands, while riding on a luxury boat, also known as the Airboat. Take an Everglades Safari on custom boats, designed specifically for families and small groups. ROG's amazing guides and United States Coast Guard Captains are real "gladesmen," who know the Everglades like the back of their hands. They are guaranteed to take you deep into this subtropical paradise.
Experience an Everglades nature tour from a River Of Grass custom boat; a small airboat ride that has safe, up-close encounters with alligators, exotic birds, like the roseate spoonbill and purple gallinule, turtles and even otters, all cage-free! This is an extraordinary sightseeing tour that goes deep into the back-country of the beautiful Florida Everglades. Our professional, experienced boat captains are sure to get your adrenaline pumping. With over 360 species of birds, whitetail deer, bald eagles, panthers and even bears, that call the Florida Everglades their home, each airboat tour is truly a unique and one-of-kind-adventure! Airboat tours with the River of Grass Adventures are close to Miami, Homestead, Fort Lauderlade and the Florida keys.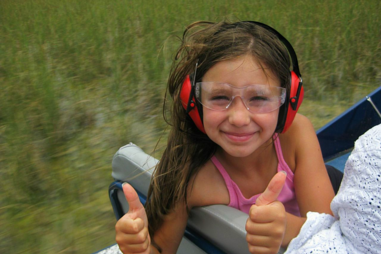 Kids Love The River Of Grass Tours
Ride First Class on The River of Grass Airboat Tour Everglades
Providing airboats designed with the latest technology, comfortable, padded seats and regular maintenance, leads to a fun and safe ride.  Safety is our number one priority at the River of Grass. Our boats meet all of the regulations to operate commercially and are equipped with U.S.C.G. approved safety equipment. Every airboat driver is an FWC Certified Trained Airboat captain. They all have years of experience in airboating in the Everglades, and some are United States Coast Guard Certified Captains.
Our team at River of Grass Airboat Adventures, strive to give the best Everglades airboat tour for all groups and families. Come experience this uniquely wonderful River of Grass. Reserve your custom-guided Everglades Boat ride, an Airboat sightseeing tour, today! Enjoy one of the very best nature tours and wildlife tours in Miami, Miami Beach, Ft Lauderdale, Homestead and South Florida, USA!
THE RIVER OF GRASS AIRBOAT TOUR
Everglades River of Grass Adventures rated "excellent" by 1,886 travelers
Tripadvisor
Airboat Tours Everglades AFTER 5:00 PM are TWILIGHT/HAPPY HOUR ADVENTURES!
APRIL through SEPTEMBER
$50 additional Twilight – $100 additional Sunset Tours