,Everglades Tour and Airboat Tour
Named by author Marjory Stoneman Douglas, the "River Of Grass" is America's Everglades, the largest subtropical wilderness ecosystem in the United States. They are the only Everglades in our world!   Described by many as a swamp or wetlands, but actually, it is a very large slow-moving river.  A natural region of tropical wetlands, freshwater marshes, bogs, hardwood hammocks and river of grass in the state of Florida. Enjoy everglades tour and other nature airboat tours in this diverse ecosystem between the Southwest gulf coast, Naples, Everglades City area and the Southeast coast of Florida near Miami, Ft. Lauderdale area is well over 2 million acres.  Take an exhilarating River Of Grass Florida Everglades tour for groups or private tour to see a gator among other animals and unique flora during your airboat ride. The Everglades National Park, the Big Cypress National Preserve and Fransic S. Taylor Wildlife Management Areas all help make this vast Animal Sanctuary, a fragile eco-system, and a gem to be seen in person.
The Everglades and Big Cypress are home to some of the rarest and unique species of our world. During your airboat adventure, we will take you to see animals like the American alligator and the American crocodile that coexist here in their natural habitat. The Everglades National Park contains the largest mangrove ecosystem in the western hemisphere, the largest continuous stand of sawgrass prairies and the most significant breeding ground for wading birds in North America.  A true national treasure, the Everglades is a World Heritage site, an International Biosphere Reserve and a Wetland of International Importance. How you see this magical paradise matters to Team ROG!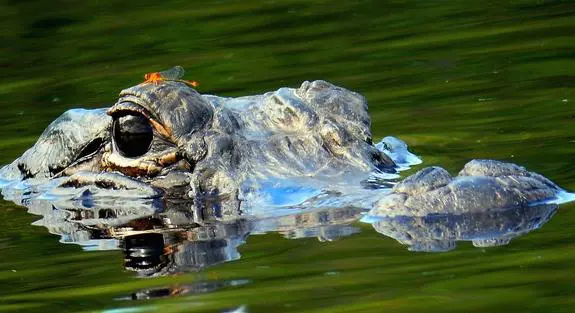 Francis S. Taylor Wildlife Management area is the northern and central core of the Everglades. The 671,831 acres is buffering the Everglades National Park and the Big Cypress National Preserve. Here you will find an extensive network of canals and levees that were constructed to help control flooding and water supply that we will show you on one of our boat tours including our semi-private tour guide airboat eco-tour.  Today, the Francis Taylor Wildlife management areas are wonderful for air boating and wildlife viewing of our unique Everglades animals, alligators, and exotic birds, including many types of herons, egrets, and raptors.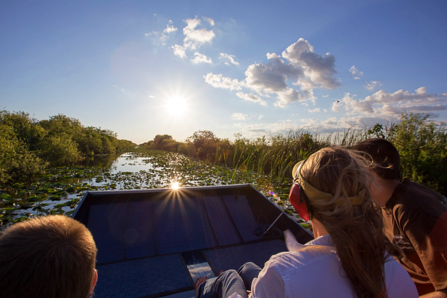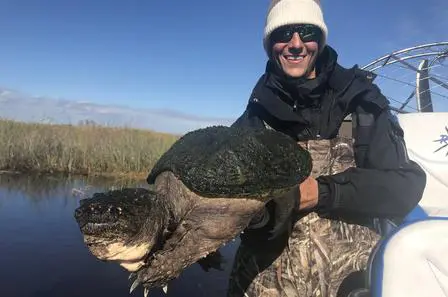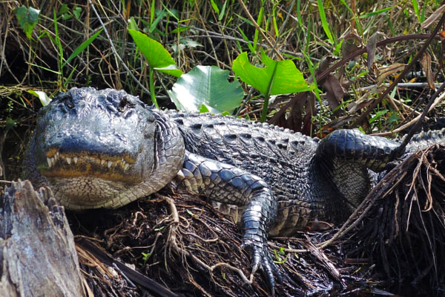 Swamps A common misconception is in the image of the Everglades "swamps". They are not waist-deep in rotting muck and stagnant water… In reality, The Big Cypress Swamps located in the heart of the Everglades sits on a bedrock of limestone, where the freshwater flows clean and clear. This fresh swamp water empties into the mangrove estuaries of the Ten Thousand Islands located within Everglades National Park that you can view on one of our full-day or half-day boat tours. Nurseries filled with sea-life are created from the mixture of freshwater and saltwater along Florida's southwest coast. A wonderful place for our unique Everglades animals cool off and hydrate.
Mangrove forests of the Everglades National Park are the largest in the continental United States. There are three types of mangroves in South Florida, the red mangrove, most common in the Everglades, the black mangrove and the white mangrove. The mangrove most commonly seen in coastal areas, it is a saltwater tolerant tree. The 'glades have a truly diverse array of tropical and temperate plants, including over 35 species of orchids, including the elusive ghost orchid and 14 amazing species of Bromeliads. Florida nature tours and alligator cove airboat nature tours with The River Of Grass Adventures explore mangrove habitat during the cooler months of the year.
Everglades Animals like bears (yes, bears!), alligators, roseate spoonbills, whitetail deer, otters, purple gallinules, egrets, herons, and the endangered and elusive Florida panthers also call the Everglades & Big Cypress National Preserve home. Just a few more reasons why this is a great place for nature tours and alligator cove airboat nature tours.
Water in the Everglades swamps was historically a rain-driven system.  The wet and dry seasons are critical to the overall health of the swamp. During the rainy season of summer, water fills the prairies and cypress strands. When the rainfall is sparse during almost half of the year, water begins to vanish.  As the water levels drop, pools of remaining water fill up with fish and a host of water-dependent creatures, including the alligator. The Everglades animals and wildlife either adapt to the extreme seasonal changes of wet and dry, migrate or perishes. The endangered woodstork is especially dependent on the distinct wet and dry seasons of the Everglades. Seeing this endangered bird helps one to access the health of the Everglades swamp.​
Today, the South Florida Water Management District – working with state, local and federal partners play a very important role in our Everglades water. They are committed to restoring, protecting and revitalizing the Everglades.
There really is no better way to explore the Everglades than riding on a small Airboat ~
We'll take you deeper into the vast Everglades "river of grass", Guaranteed!
The River Of Grass Adventures
What is the best airboat tour in the Florida Everglades?
The Florida everglades are a one-of-a-kind ecosystem located in South East Florida. This 2-million-acre area is a mix of swampland, wetlands, hardwoods, and freshwater- making it diverse in flaura and fauna. The Everglades have been a popular tourist attraction for many years. This land is home to alligators, crocodiles, turtles, insects, and many other animals that thrive in swamp-like conditions.
Taking an Everglades Nature Tour is an excellent way of enjoying this area and its beautiful wildlife. Airboat tours put you right in the middle of the action, giving you the freedom to select from many different packages that we offer year-round.
Understanding the Everglades
The name "Everglades" came from the "River of Grass", originally coined by author Marjory Douglas. This wonderful piece of nature is conveniently located near Miami, Ft. Lauderdale, and the Naples. By definition, the Everglades is a large subtropical wilderness that runs uninterrupted for millions of acres. Geographers categorize this area as a mixture between a swamp and a slow-moving river. The semi-stagnant waters create an ecosystem where numerous types of plants can thrive. You can expect to see native Florida vegetation, numerous insect species, reptiles, and much more.
If you're curious about exploring the Miami Everglades, there's no better way to do it than by taking exhilarating airboat tours. Airboats get you as close to the action as possible; where you can touch the plants and observe the gators firsthand. Each airboat seats 5-9 guests, and you can pick from 1-2.5-hour trips. This unique perseveration area consists of multiple attractions that provide a breathtaking experience. For example, The Everglades National Park is filled with exciting activities for your entire family.
Many travelers mistake the Miami Everglades for dirty, muddy, and stagnant swamps. However, the true picture on the ground is a mix between freshwater and salt that comes from underlying limestone layers. And when fresh and salty water mix, they create nurseries where animals raise their young and cool off during hot days.
Swamp water from the Everglades eventually drains into mangrove estuaries that breathe life into Florida's South East. From the red mangroves that are a familiar site to the white and black mangroves, you can expect to enjoy beautiful scenes across the entire national park.
To complete your tour of the Everglades, the Big Cypress National Preserve and Fransic S. Taylor Wildlife Management Areas provide additional views and experiences that you can explore through Everglades Airboat Tours in Florida.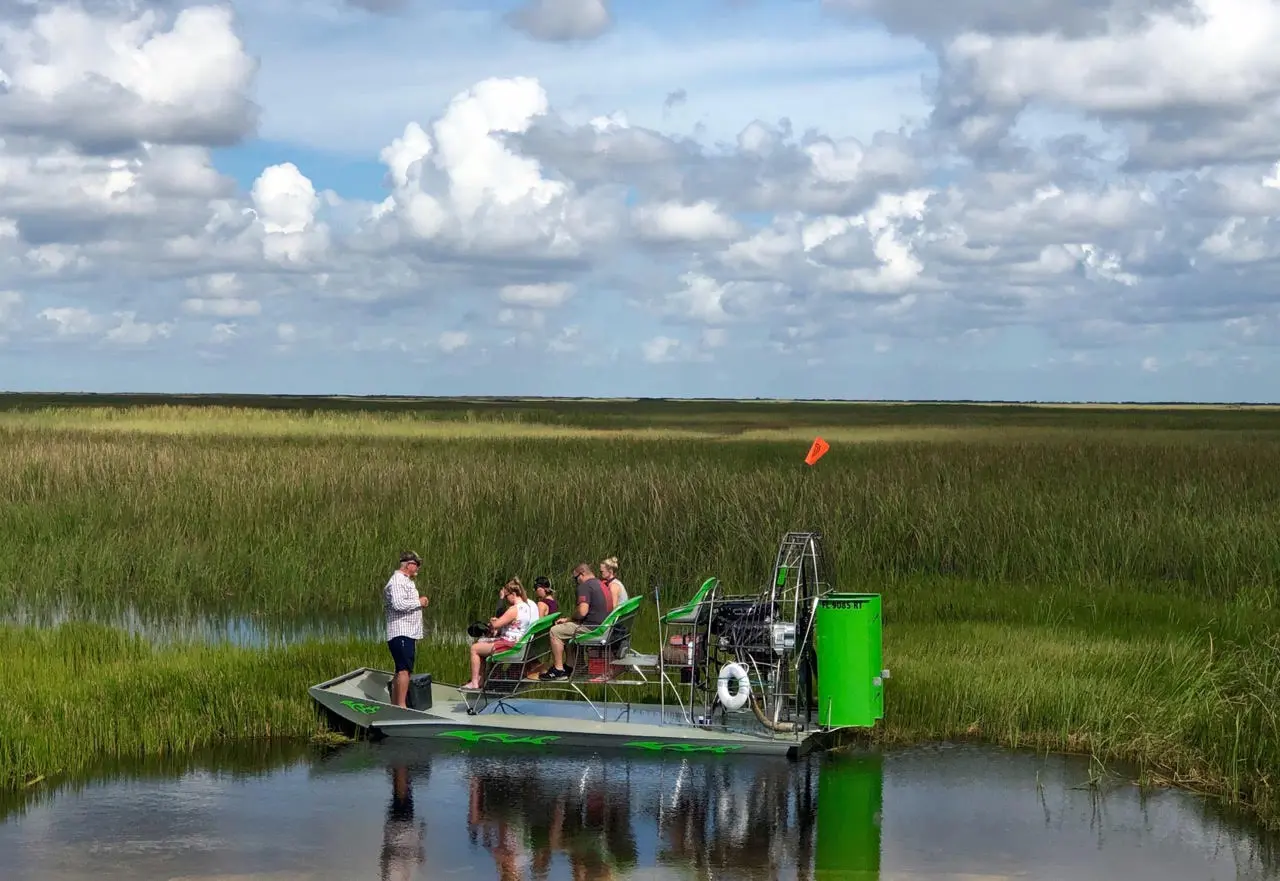 What can you expect during an airboat tour?
Our Airboat Tours are a top-notch experience that let you explore this beautiful ecosystem. The Miami Everglades are extensive and filled with numerous features. That is why we've designed our tours to explore core sections of this natural preserve in a time and cost-effective manner.
When you book an Everglades Nature Tour, we take you through the Everglades National Park, Big Cypress Natural Preserve, and Taylor Wildlife Management Area. Each section is defined by unique plants, wildlife, and landscapes. For example, the Francis Taylor Management areas allow you to view exotic bird species, alligators, raptors, and herons. There are also beautiful canals and levees that control the flow of water and provide a safe environment for animals and humans.
If you're into mangroves, you'll get a true picture during your Everglades Airboat Tours. The Everglades National Park in Florida is home to the largest ecosystem of mangroves on this half of the planet. Furthermore, beautiful prairies extend for miles and wading birds have the perfect breeding ground for their young.
Our Airboat Tours give you more than just a general view of the Everglades. You'll also get to see a World Heritage Site in Florida and an International Biosphere Reserve. All this as you cruise comfortably on one of our comfortable, and stylish airboat designs for the length of time that you choose.
What makes our airboat tours stand out?
At River of Grass Adventures, we know what it takes to provide a breathtaking tour experience. That is why each of our Miami Airboat Tours is planned in detail to give you the best picture of this beautiful natural preserve. The swamps look different during the wet and dry seasons, as water tends to drain and only pools of fish are left swimming in paddles.
When it rains, the prairies are vibrant with wildlife activity, and the alligators come out to play. Each Miami season commands a different type of tour, which is why River of Grass tailors your specific experience to remain equally adventurous regardless of weather patterns.
When you book any of our Airboat adventures, you can expect to see endangered species, native plants, and popular wildlife that will make you pull out your camera at first glance. Are you ready to experience the Miami Everglades in a manner that you've never thought of before? Book a tour with River of Grass today!