Where Miami Meets The Everglades River Of Grass Adventures
River Of Grass Airboat Tours
Everglades and Francis Taylor Wildlife Management Area 3B
Boat Ramp – East End
5334 FL-90
Miami, FL 33185
River Of Grass Swamp Buggy Tour
Big Cypress National Preserve Swamp Buggy tours!
Ochopee, FL, USA – call for details
River Of Grass Fishing Tours
We want to take you fishing! CALL FOR DETAILS
Everglades River of Grass Adventures
FINDING The River of Grass Adventures – Airboat Rides Miami
The Pilot Travel Center is a fantastic place to meet for an Everglades Airboat tour, Fishing Tour, Swamp Buggy, or Swamp Walking Adventure with The Team at River Of Grass Adventures. Our guests who have pre-booked Reservations or are just in the area looking for an exciting airboat ride will find our guides here ready to lead you to adventure. Skip the tourist attractions with long lines and caged animals. Enjoy the Everglades with our team of naturalists on an Everglades nature tour unlike any other in south Florida. The River Of Grass Adventures and Shell Gas Station is located at the intersection of Krome Avenue, Highway 997, and the Tamiami Trail, SW 8th Street, also known as Highway 41 (yep, 3 names for one road!) River of Grass Airboat Tours are 1.5 Miles away.

The Everglades River of Grass Adventures is committed to conservation, and we only explore the areas suitable for air boating. Weather conditions and water levels can impact certain areas of the Great Florida Everglades differently.
Due to COVID-19 – River of Grass guests will come directly to the tour departure locations – your reservation will have all the details – Stopping at Dade Corners / Pilot Travels Center for Restrooms and Souvenirs is still recommended ~ No check-in required!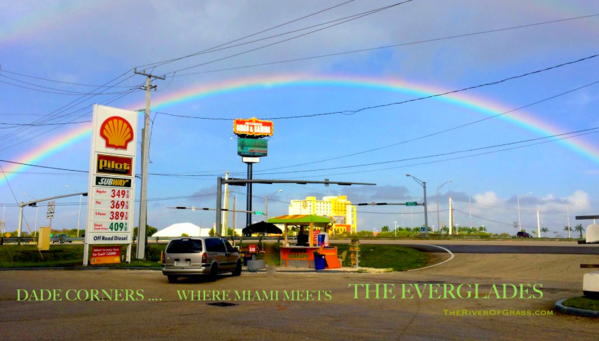 The River Of Grass also provides airboat tours near Fort Lauderdale and West Palm Beach. See our Parkland Loxahatchee and Fort Lauderdale meeting locations (seasonal) / Currently Not Operating.
Call us for more details! (305) 788-2418